6 Steps to Building a Better Knowledgebase Article Template
As customers continue to demand better self-service options, building and maintaining a robust, relevant knowledgebase has become more important than ever. The right information in your knowledgebase article template can make or break your system as you compile years of knowledge from product collateral, FAQs, internal subject matter experts, and trusted third-party sources.
Here are some key best practices when developing your knowledgebase article templates to ensure the right information gets to the right audience, right when they need it:
6 Do's and Don'ts of Great Knowledgebase Article Templates
1. DO prioritize your initial topics based on volume, frequency, and other information.
Determine the most important and popular pieces of information to build your knowledgebase articles from. Look for key topics in your CRM or tagged in emails, support tickets or live chat, or pull article ideas directly from customer feedback. If you have a site search function or SEO analytics for your brand website, you can use that information to see which keywords customers are searching for, or which queries brought them to your site in the first place.
2. DON'T try to write every knowledgebase article for a universal audience.
If you're building a comprehensive knowledgebase for both agents and customers, you may come across some knowledgebase articles that will need at least two separate responses for a single query –one for the agent and one for the customer. Make sure your knowledge management system can handle profiled content, or the ability to display different levels of detail to different audiences and devices. For example, a quick, concise answer may be all the information a customer needs, while the agent needs deeper product details.
3. DO have a structured system or template for individual articles.
A consistent knowledgebase article template can help ensure content authors cover all the necessary information for each article without overlooking any key elements from previous articles. You may need different formatting options depending on the different types of articles that need to be written. For example, a step-by-step guide will have different elements from a feature list. Your topic list should help inform the types of articles you'll be creating, but you will likely need to be flexible.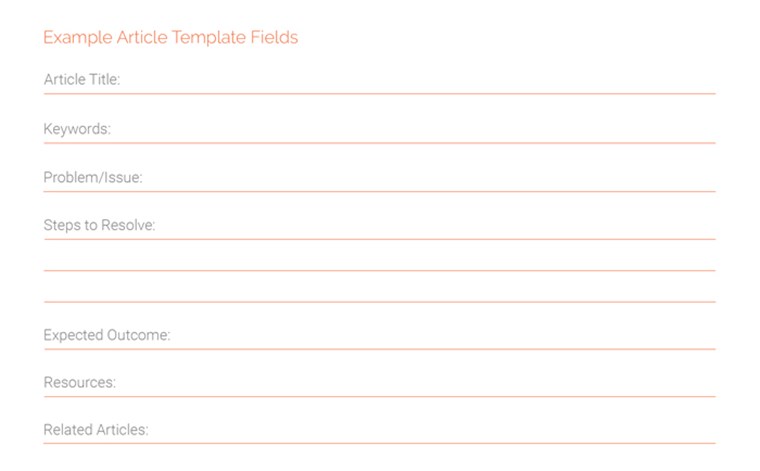 4. DON'T throw every bit of knowledge about a topic into a single mega-article.
It's tempting to compile every piece of knowledge around a given topic into one long-form article that could answer every possible question a customer may ever have. However, most users – customers in particular – have one simple question they want to find an immediate response to without having to scour giant articles or type in multiple searches. Break long articles or big topics up into smaller components and link them to one another for content that can be consumed more efficiently. It's important that you don't oversimplify articles in an effort to make them shorter, either. Clear, concise knowledgebase articles should answer queries quickly and directly, with links to more information where applicable.
5. DO consider readability and usability when authoring content.
Build user-friendly elements into your knowledgebase article templates wherever possible. Use bulleted lists, subheaders, and design elements like arrows and call-out boxes to ensure the article is easy to read and understand right from the start. Make sure your copy is engaging – ideally, someone with business writing experience should create it – but don't let it get bogged down by gimmicks or slang. This is especially crucial if you'll be creating knowledgebase content in multiple languages.
6. DON'T set it and forget it – assign workflows and actively fill in gaps.
An effective knowledgebase will also require regular maintenance: regular updates, audits, and refreshes of content based on product development. An integrated knowledgebase program can help you assign tasks and roles for each article to ensure smooth development and ongoing optimization. A good knowledgebase article is a group effort, so not only should you assign someone to write it, but you should also look for subject matter experts to review, and include a translator where necessary.
What's more, a knowledgebase should be dynamic and evolving along with your product, customer needs, and other factors. Are customers still contacting support after viewing the knowledgebase results? Are they asking for information that's not in the knowledgebase? You may need to clarify or add new details to articles depending on how customers or agents are using the information. Look for AI-powered features in your knowledgebase solutions like machine learning and natural language processing to help streamline this process by clustering related topics and automatically recommending new topics to fill these gaps.
Knowledgebase Template Must-Haves:
A clear, action-oriented title stating the exact purpose of the article
Specific topics around high-volume keywords, popular queries, key products and/or features
A reference or identification code to create a unique ID for each article
Visual aids like screenshots or videos to demonstrate steps more clearly
Cross-links to related content to keep articles concise
>> Download the Knowledgebase Article Template Worksheet <<
It might seem like a daunting task to start with, but creating effective and accurate knowledgebase article templates and content can be easy with the right set of integrated customer experience technologies. Astute Knowledge can help you build your knowledgebase from existing internal and external resources, as well as identify any gaps in your system where questions are going unanswered. Learn more about our AI-powered knowledge management system that can help you customize interactions and request a demo today.